INNOVATIONS
A unique scientific dogma based on effectiveness, safety, natural and pleasure. An ability to innovate, making most of the latest cosmetic breakthroughs.
The Sothys advanced Research, makes up the foundation of the brand scientific innovations. This double research unit works on isolating and validating new active ingredients for use in absolutely exclusive galenic formulas. In this essential quest for effectiveness, Sothys expertise is further reinforced by ongoing discussions with the university field, as well as a panel of experts who help ensure the validity of each new formula. The current breakthrough in neuro-cosmetics, linking the nervous system to skin's tissue, has lead to the successful creation of exclusive compounds that act on cellular communication.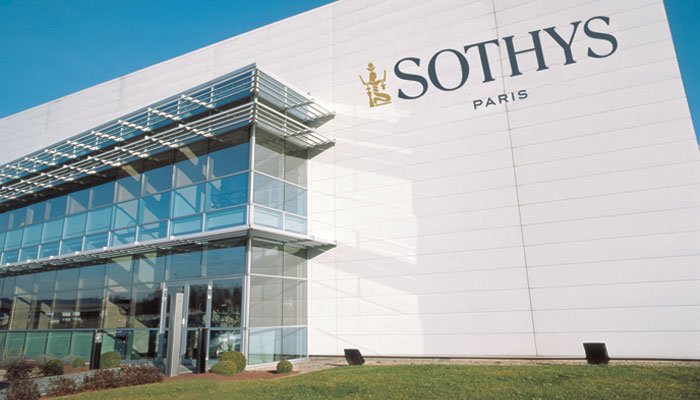 TIMELINE
1997

World's 1st public presentation of the exclusive use of Retinol in Beauty Institutes
1998


First Thalassothys® Body Treatment with marine extracts
1999


First ultra-precision Lift Defense® Institute Treatment (Cell Communications)
2000


First Digi-Esthétique® massage technique
2001


First anti-age de-stress prestige cream with Tex-OE®: Secrets de Sothys®
2002


World's first cellular energy Sperulites®: Oxyliance™ Institute Treatment
2003


Skin Dietetics + Hormonal Balance: Secrets de Sothys® Prestige Range
New generation anti-ageing Institute Treatment: Lift Defense® 2
2004


Partnership with "Thermes de Spa" in Belgium: Eau Thermale Spa™ Line
Cellu-Guard Complex®: Sun Care world exclusive innovation
Launch of Total Cohesion™: An anti-sagging innovation that acts from within the heart of the cell – Neurocosmetics
Launch of new make-up concept: Highly personalized make-up care
2005


[W.]™ Lightening Line: World Revolutionary Lightening Program
Hydroptimale® THI3 Intelligent hydration in 3 dimensions
2006


Prospa Concept™: Professional Spa Program with Body Digi-Esthétique®
2007


A NEW Secrets de Sothys® Face & Body Premium Institute Treatment
New innovation in the formulation of Secrets de Sothys® Serum
2008


4th Generation of Hydroptimale® THI3 Intelligent Hydration in 3 dimensions
2009


2nd Cosmeceutical Line – Pore Refiner System™
1st Patented Cosmeceutic Ageless Programme – [C] Collagène Hyaluronique™ (Ageless Serum + [C] Collagène Hyaluronique Institute Treatment)
2010


Cosmeceutic Ageless Progamme Extension – [C] Collagène Hyaluronique™ (Ageless Cream Grade 1-4)
1st Cosmeceutic Facial Treatment – Resurfacing Cosmeceutic Treatment
2011


2nd Generation Brightening Programme – [W.]™+ Brightening Line
Cosmetogenomics Hydrating Programme – Hydradvance™ Line
2012


Silhoulette: Customized Slimming & Firming Programme
Paraben-Free Homme Line: A manly regime in 3 essential steps
Paraben-Free Mineral Oxygenating Line: Detoxifying home care in 21 days
2013


Paraben-Free Essential Preparing Cares: Personalized beauty regime in 3 essential steps
High protection eye care – Tri-action High Performance Eye Programme
The root of youth – Lifeline (Fil de Vie™) Energizing Programme
2014


Sensitive Line with Spa Thermal™ Water
French chic style – Sothys Make-up
2015


Diamond Programme – Skin Energy + Science of Light
3-dimensional Hydrating Programme – Hydra3Ha™ Programme
2016


Facial Anytime – Essential Ampoules
ALL YOU NEED TO KNOW ABOUT SOTHYS

WORLD OF SOTHYS
Find out more about how this avant-garde luxury cosmetics brand came to be. With more than 70 years of history behind it, it's worth the read!

INNOVATIONS
Sothys has always stood out with its extraordinary commitment to research and innovation, claiming its place as an avant-garde beauty expert. We list some of the breakthroughs over the years.

CORE VALUES
Here are some core values that drives Sothys to be second-to-none in the industry.

THE 7 PROMISES
Sothys' strength lies in upholding 'The 7 Promises' meant to challenge the brand to scale greater heights. Find out what they are!

SOTHYS GIRL
The Golden Badge is the mark of an extraordinary Sothys Skincare Solution Specialist— a sign of her commitment to service excellence and her deep skincare knowledge that enables her to prescribe the best of SOTHYS' home care products to you.
| | |
| --- | --- |
| GET UP TO DATE ON THE LATEST NEWS | |
GET UP TO DATE ON THE LATEST NEWS