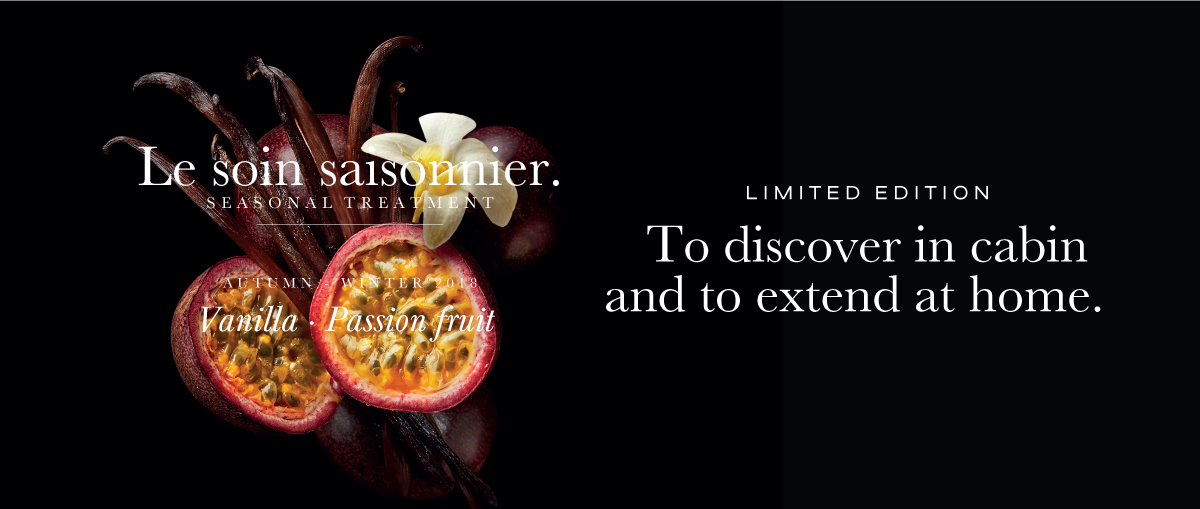 2018 Autumn-Winter Edition
Vanilla-Passion Fruit Mineral Oxygenating Treatment
Every day our skin are fighting with daily aggression from work stress to unhealthy lifestyle, imbalance diet, environmental pollution and so on; it causes our skin being asphyxiated by the toxins. And when our skin cell no longer regenerate, it appears dull and weak. This year SOTHYS 2018 Autumn-Winter Edition brings you a dose of multi-function anti-toxin complex and minerals to boost your skin's defense system, unveiling to you a facial treatment with delicious notes of vanilla and passion fruits, for energized and toned skin!
Treatment key-product highlight as below:
2-in-1 Mask Exfoliant
Objective: Exfoliant containing grains to remove surface impurities from the skin. Used as a mask, this soft and creamy paste is a source of oxygen for the skin. Restores softness and radiance of the skin.
Key Ingredients:

Vanilla Extract antioxidant.
Pink Clay purifying, oxygenating, re-mineralizing and detoxifying.
Exfoliating plant grains (grain of rice) mechanical exfoliation.
Oxy-mineral Radiance Treatment
Objective: Oxygenating and achieve skin balance.
Key Ingredients:

Passion fruit Extract antioxidant and protective.
Complex of multifunctional antitoxins (phytoplankton, yeast and polyphenol) Reactivates an exceptional cell regeneration, cells are better oxygenated and the skin breathes better.
Cocktail of minerals (Mg, Cu, Zn, Ca) Acts against cellular tiredness: vitalises and stimulates cellular defence and repairs.
Modelling Cream with Vanilla Extract
Objective: Enveloping cream for a delicate modelling.
Key Ingredients:

Vanilla Extract antioxidant.
Shea Butter Regenerating and nourishing.
Peel-off Mask with Passion Fruit Extract
Objective: Peel-off mask.
Key Ingredients:

Passion Fruit Extract antioxidant and protective.
Combination of diatomaceous earth and alginate favours the diffusion of active substances.
Duration:
1 hour 30 minutes
Skin Type:
Suitable for all skin types
Normal Price: SG 130
First Trial:SG 67
| | |
| --- | --- |
| GET UP TO DATE ON THE LATEST NEWS | |
GET UP TO DATE ON THE LATEST NEWS